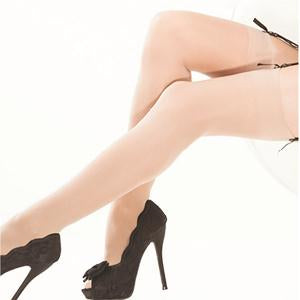 Nothing is more sensual than the look and feel of hosiery…indulge.
Ooze sex appeal with classic retro glamour, burlesque style!
Though technological advancements have made hosiery more durable than ever, you should still take care to put them on correctly, especially when they are sheer. First of all, make sure to take any rings and bracelets off and ensure your nails are smooth to prevent snags.
Start by sitting down and roll down the stocking to the toe area.  One leg at a time, slip your foot into the hosiery and curl your toes downward to prevent toe nail snags. Gently roll the hose up your leg. Always use both hands and stretch the hosiery up each leg carefully.
Finally, hosiery should be hand washed with in warm water using a mild detergent like Forever New. Do not bleach. Do not leave to soak. Do not put your hosiery in the dryer, instead dry flat between two towels or drip dry. Do not dry using direct sunlight or direct heat. Lastly, fold flat or roll up when storing in your bureau.