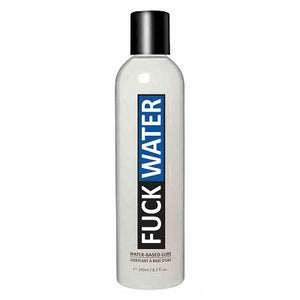 Fuckwater personal lubricant lessens undesirable friction!
Fuckwater personal lubricant is one of the best hybrid lubricants for sensual play. This includes anal play as well! Fuckwater is a water-based lube that contains the silicone ingredient dimethicone. In fact, it is latex-friendly but may react with some silicone toys. Before using Fuckwater with your favourite silicone toy, please do a spot-test on the bottom or base of the toy.
Canada produces this premium water-based lubricant! A trio of friends have marketed their product with the tagline "When spit and courage aren't enough". If you hate reapplying lube during the sex act and the stickiness left on your hands afterwards, then fuckwater personal lubricant is ideal.
North America provides all the ingredients. And, they have put the emphasis on quality, using only food-grade ingredients. Feel confident knowing nothing will harm you like nasty parabens. Specifically, there is no need to worry if some finds its way into your mouth. In addition, you are also supporting the Canadian economy!
Due to its glycerin-free formula, it never dries sticky like some other lubes. It is long lasting, easily washes away with warm water. However, it still delivers the perfect amount of slipperiness with every single use. Finally, with a name like Fuckwater, how can you not give it a go!
Ingredients: Water, Propylene Glycol, Isopropyl Palmitate, Dimethicone, Hydroxypropyl Cellulose, Polysorbate 20, Sorbitan Stearate, Cetearyl Alcohol, Glyceryl Stearate, Sodium Benzoate, Gluconolactone