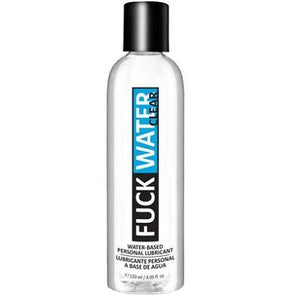 FuckWater Clear Lubricant is clearly Canadian!
FuckWater Clear lubricant is one of the best lubricants for sensual play. This is a basic glycerin water-based lube. In fact, it is latex, polyisoprene and polyurethane condom-friendly! It stays slick and does not get sticky. Unlike so many other glycerin-based lubricants.
Canada produces this premium water-based lubricant! In fact, a trio of friends have marketed this product with the tagline "When spit and courage aren't enough". If you hate reapplying lube during the sex act and the stickiness left on your hands afterwards, then Fuck Water clear lubricant is ideal.
North America provides all the ingredients. And, they have put the emphasis on quality, using only food-grade ingredients. Feel confident knowing nothing will harm you like nasty parabens. Specifically, there is no need to worry if some finds its way into your mouth. In addition, you are also supporting the Canadian economy!
Health Canada approves all of the Fuck Water Lubricants. FuckWater Clear is one of the safest personal lubricants on the market. In addition, it is fragrance-free. And, it will not stain fabrics. The bottles are induction sealed for extra security with a lift 'n' peel removal tab.
Due to its pure plant source glycerin, it offers a silky smooth cover to make everything glide. It is long lasting. And, fuck water clear easily washes away with warm water. However, it still delivers the perfect amount of slipperiness with every single use. Finally, with a name like Fuckwater, how can you not give it a go!
Ingredients – Glycerin, Water, Cellulose Gum, Gluconolactone, Sodium Benzoate.