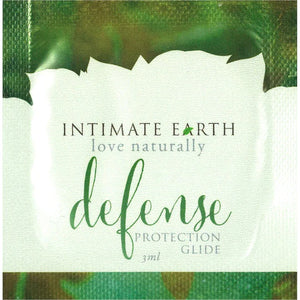 Intimate Earth (formerly known as Intimate Organics), is an earth-friendly brand which takes its inspiration from common elements we find in nature - water, wood, metal, plants and earth. Their beautiful look is a testament to what this company's philosophy is, which is help people fall in love and stay in love, naturally.
Defense is a protection glide containing Caarrageean (Sea Kelp) and Guava Bark astringent extract.  
Defense is an exciting breakthrough in lubricants. Guava Bark has been used for thousands of years in the Amazon to clean wounds and used for douching. In Brazil guava is considered an astringent for wounds.
Aside from its suspected healing and prevention properties, Defense at its core is a great lubricant for long-lasting and pleasurable use either alone or with a partner.